 
Saeco Minuto HD8773/47
Promotion ends:

2 February 2020
Free delivery in 2 business days (on order over 99$). If you wish to have your product in 1 day, you can choose this option in your shopping cart.

Warranty manage by Boutique Chapman: Management, parts and labor costs for repairs under warranty are covered by Boutique Chapman.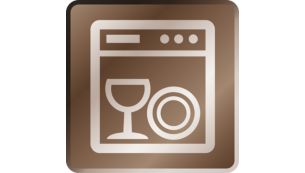 Easy cleaning thanks to dishwasher-safe parts
For your convenience, you can put the Saeco's drip tray and milk frother or milk carafe in the dishwasher. This will save time and ensure a hygienic cleaning.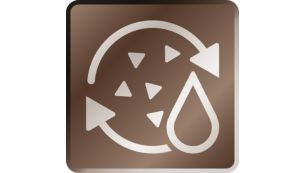 Always a clean machine thanks to auto-clean and descaling
Saeco designed this espresso machine to automatically clean its coffee circuit with water upon starting up or switching off of the machine, this delivers a great, fresh taste with each cup of coffee. Regular descaling prolongs your espresso machine's life. This machine will not only prompt when descaling is needed, the automated descaling process will start on your machine and guides you with clear on-screen messages when you have to intervene. Descaling has never been so easy!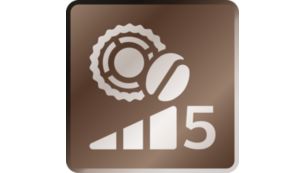 Fine-tune the coffee's richness with 5 grinder settings
When it comes to the fineness of the grind, this machine never fails to satisfy. Different coffee blends require different levels of granularity for the full flavor to unfold. So the grind granularity of this machine has five adjustable settings - from the finest grind for a full-bodied espresso, to the coarsest for a lighter coffee.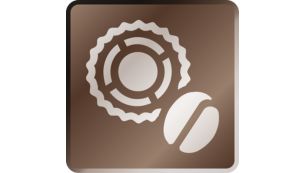 20,000 cups of finest coffee with durable ceramic grinders
Our grinders are made of high-tech ceramic: exceptionally hard and precise. Fresh beans are gently ground, without risk of overheating: extracting all the best flavors and aroma, delivering a superior coffee taste for at least 20,000 cups.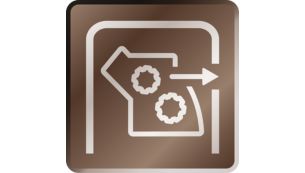 The fully removable brewing group can be cleaned in no time
Efficiency and ease of use were key inspirations when Saeco invented the first brewing group 30 years ago. And to this day, it still proves to be an inspired, resolute piece of technology. As always, it's so simple to clean – just remove it and wash it under the tap for a few seconds, then re-insert it just as easily.
The strength selection remembers just how strong you like it
Once you've chosen your ideal strength from the 5 different settings, you can easily save it with the Memo Function, as well your desired length and temperature. Then every cup in the future will be customised exactly to your taste. You'll never have to remind it again, unlike the local barista.